Posted by Kimber Mc on Jan 16th 2023
CBDTeas isn't what you think. Natural Healthy CBD spilling the real tea on an unfolding scandal in the CBD industry.
One benefit Natural Healthy provides our brand Partners is consistent monitoring of the market to shut down scams on their brands, and that their customers may fall victim to. We do this not only to prevent our clients from falling into harm but also to prevent major crime as we take the "war on drugs" and make it into a thriving asset to human health. Sadly we must do this to protect our new laws and industry or we'll lose the ability to regulate it without government interference. However, unable to see the bigger picture through their greed, we still have people attempting to destroy all of our hard work. This brings us to the topic of today, CBDteas.
Let's begin with their website which is entirely cloned word for word from our website. They never even made an attempt to remove our link from some of their web pages.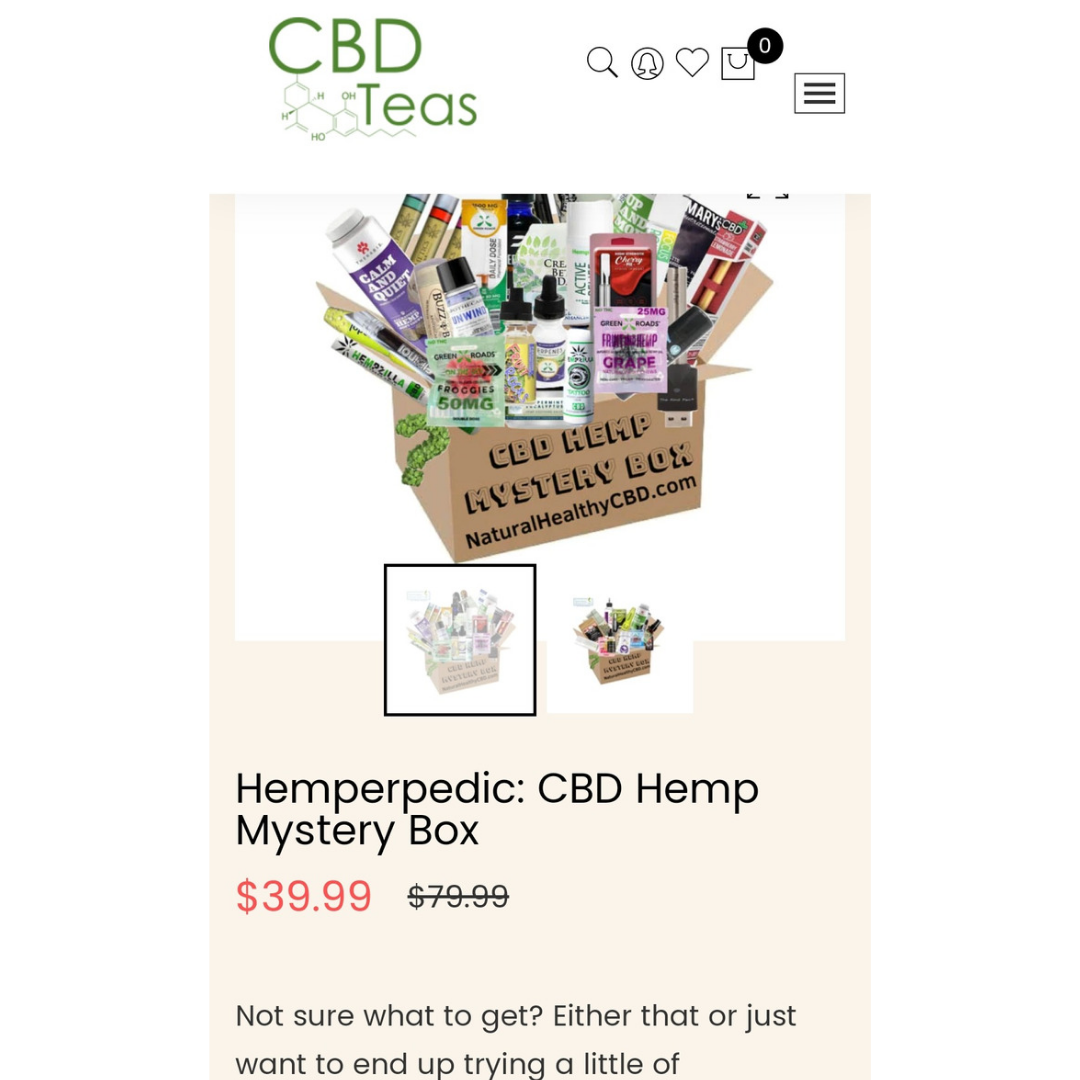 While sure, many websites may sell multiple brands, our company is different in the fact that we lab test our brand samples and provide that information to the public. Most tests are around $125 to $200 per product and they simply decided to take this information as well, without paying for a single lab themselves. It's gotten to the point where we are being called by clients who are not receiving products they purchased but unfortunately they didn't purchase through us and there's nothing we can do about refunds in regards to a scam website. All we can do is inform you about this happening and hope that nobody falls prey to this scam in the future and warn our business partners about this because if they are doing it to us, they are doing it to you too.
So we went ahead and did a full investigation into CBDTeas, so you don't have to in an effort to prevent more people from being scammed, lied to, and sold stolen property.
We have always had a large celebrity following, either their brands or the studies we do, it's almost like we're part of the Hollywood crowd, even though based in Chicago. It is not the first nor last time somebody will want to hack into our company to take this information. This is a large movement, with people coming from the government and from the streets to rip us apart. We feel very privileged in having the trust of our celebrity partnerships and we try and keep as safe as we can in respecting their privacy and so far nobody has yet to get through. From Candid type companies to back door bad doers, simply stating facts that luckily we've done our job well enough to prevent that full security breach from happening. It's cost us a lot and we know that it's not all on account of CBDteas, but we feel this is a good place to start.
First came rumors that, between espionage and people trying to poach our employees and even an attempt to involve themselves in our medical care, that frauds have attempted to sell clones or copies of our website to banks for loans for businesses that then expect us to pay them back. It is not our responsibility to pay back a bank that has fallen for a fraud without doing their due diligence to investigate said companies. We have had up to 59 payment on borders and gateways specifically selling our property allegedly, while denying us a service which is a different story in itself entirely that we will probably publish at a later date.
I data wrangle for a living, it's our job to keep cultivators, growers, dispensaries, CBD developers, and the influencers behind it updated on new and dangerous alerts and where we need improvement before the government gets involved. So if it's out there, we'll find it.
Onto CBDTeas…
First and foremost, there's no real accountability.
When contacting CBDTeas social media accounts, we were met with Budda Teas informing us that the CBDteas website has stolen their logos and designs and they were currently involved in legal proceedings. Great.
Social media is tricky though, with multiple accounts and multiple clones out there, I wanted to give them the benefit of the doubt and decided to keep looking into it myself. Social media couldn't come up with the name of anybody to be held accountable and when I reach out to their personal emails and contact preferences they remain unresponsive.
This is where CBDteas that splits in two. As social media would have it, cbdtea.net llc allegedly belongs to some guy named Cameron who works at a different company entirely and hasn't added anything to his resume in the past 10 years. We assume it's this domain in legal proceedings with Buddha Tea's due to their very similar look appeal and logo.
No, our battle was with cbdteas on shopify, an e-commerce platform that at one time we were looking into as a solution for our current webhost. Once again this website was literally cloned word for word, product for product, brand for brand, and then they attempted to use forms of espionage and poaching our employees to control not only the market but us as humans and a business. I simply won't stand for that. So we stopped supply.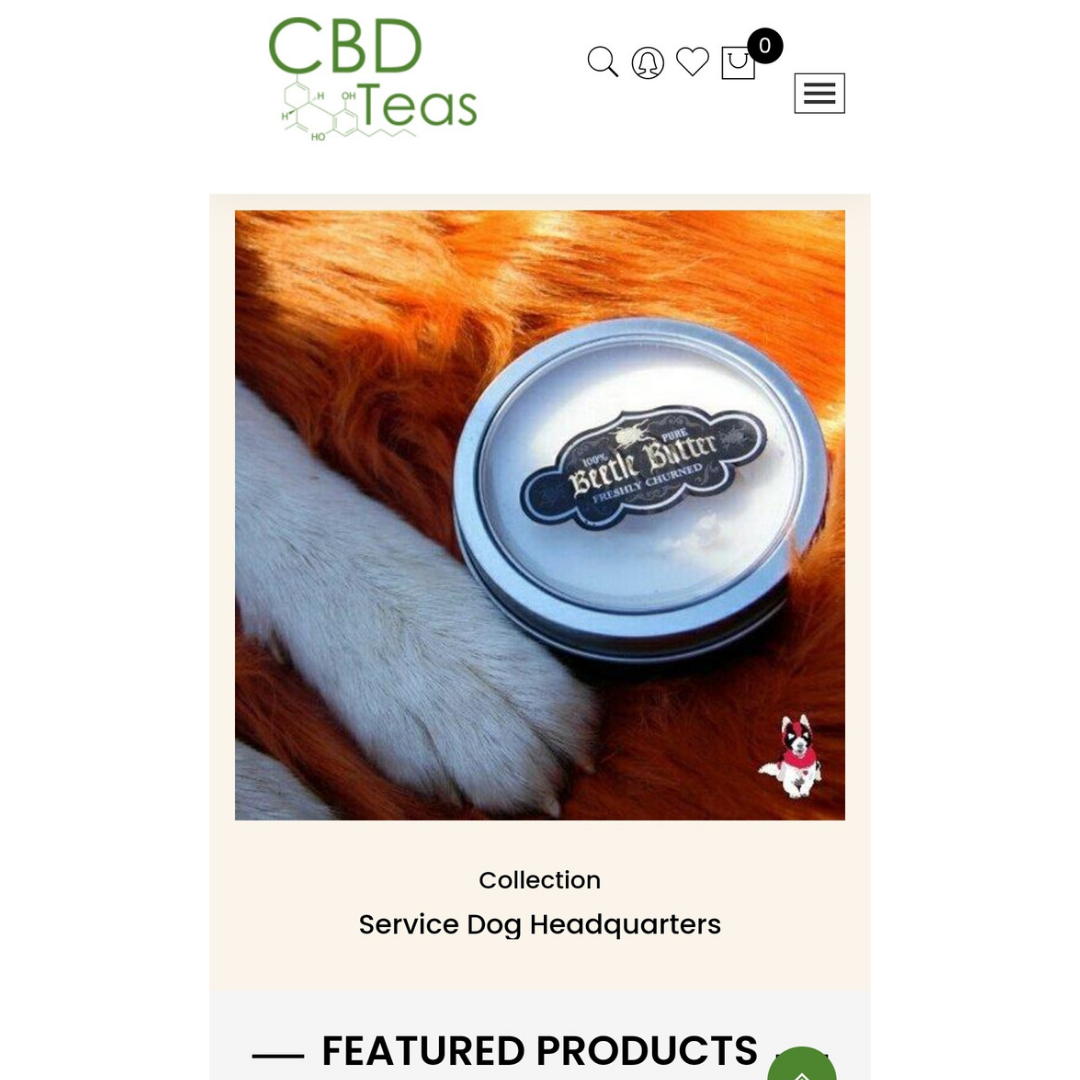 First, I went to the source - or should I say, the clone of the source. Even though, on their very own homepage my products are displayed for all to view without my permission, they very kindly left their address at the bottom of every single page of CBDteas website. How convenient for me.
So upon looking at this address I was able to determine one that it was a home in a small location recently sold by Trimax Bread Breakers. I find this to be interesting because a lot of the influencers that got wrapped up in this to begin with ended up leaving live streaming to become Realtors, not necessarily for this company but it's something I noted. A Google search revealed that this home was the residence of Vincent Edwards, a Keith Edwards, a Brenda Hawkins, and a Paula McCracken.
If I began to explain the connections every single one of these people had with a streamer or a dispensary in my life it would seem crazy so I'm going to keep it straight to the facts. I'm not going to mention anyone who may or may not be using a certain streaming platform to launder money in somebody else's name illegally because I'm hoping this article alone will shed enough light to the situation to where something will change or at least it will be known that I am aware of a lot more than I am willing to document on paper currently. However while researching CBDTeas LLC, It has come to our attention that Vincent Edwards no longer has a valid business license.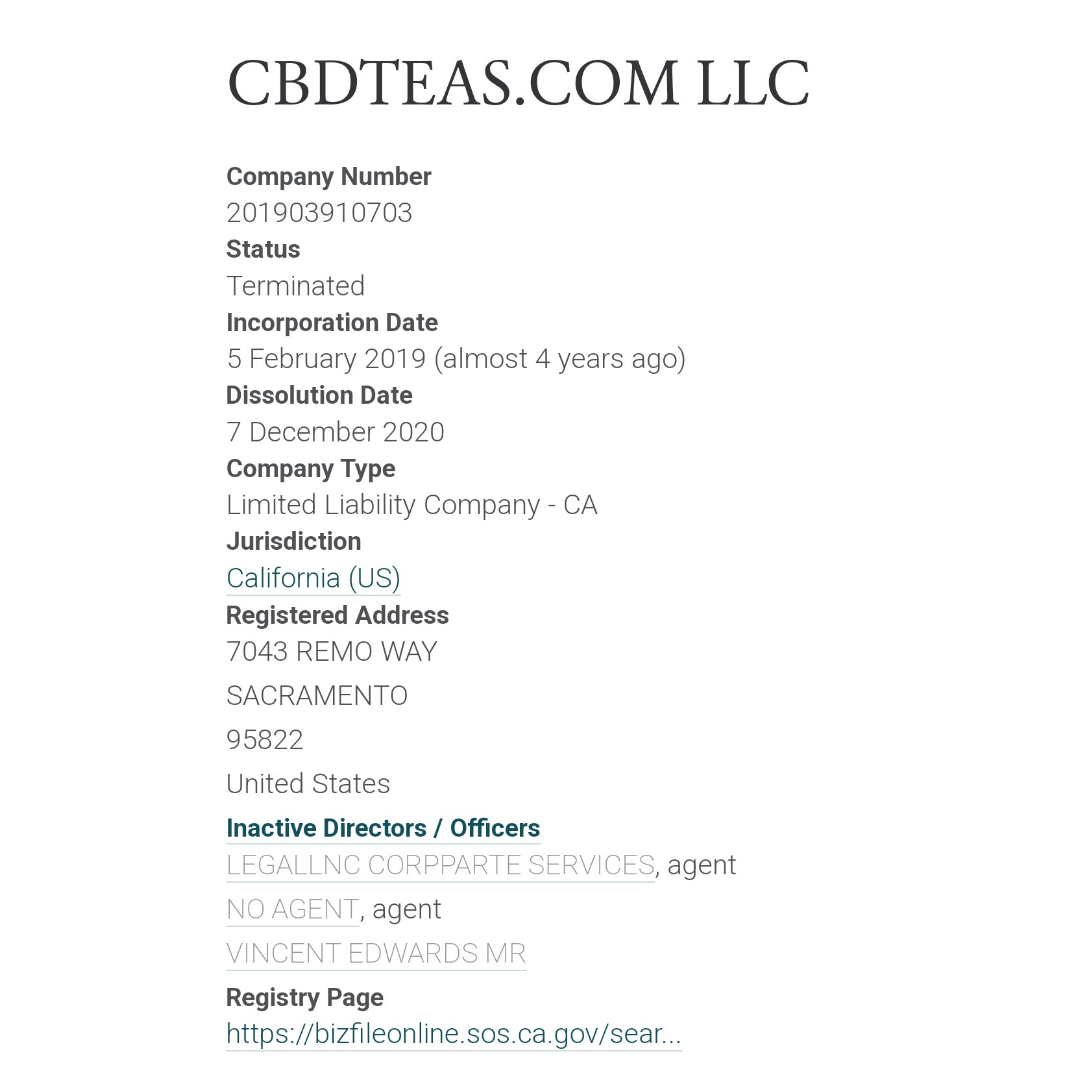 My concern is the constant loss of income and pain and suffering being brought on to not only myself but my business partners and my clients falling into this trap. However, I did notice that after they tried to repetitively shut us down and take the clone, no new brands have been going through lab testing and it has been brought to my attention a lot of people have been getting sick off of CBD products showing symptoms from unsanitary infection to losing their hair.
While an attempt to scam or cut out the CEO or a middleman from their own property, this disruption and subsequent infection has proven exactly why we're needed in the first place. Since then, we've been reaching out to the labs and others to provide laboratory services to better our mission.
Although we have to keep our legal proceedings behind closed doors what I am at Liberty to say is that at the very minimum this is disparagement and intellectual property fraud/theft not only against us but against at least 150 other business partners. In this sensitive industry, many of our products are gridlocked or have legal barriers we must abide by and as a manufacturer of many naturally sourced brands, we need to be aware of where our products go. Not just for safety, but supply, demand, and shelf life of each plant-based product. Trust us when we say, we know which brands our company manufacturers for and if it's listed without permission, it can cause confusion, regardless of true motives. Simply misappropriating the identity of this business can be dangerous, but regardless we have laws to follow in business and we must all follow them.
You simply can't shut down the manufacturer of a product and them claim to sell said product. Therefore, we know that any website developed after ours, with our words and brands, but without permission, is a nefarious attempt to steal at the minimum.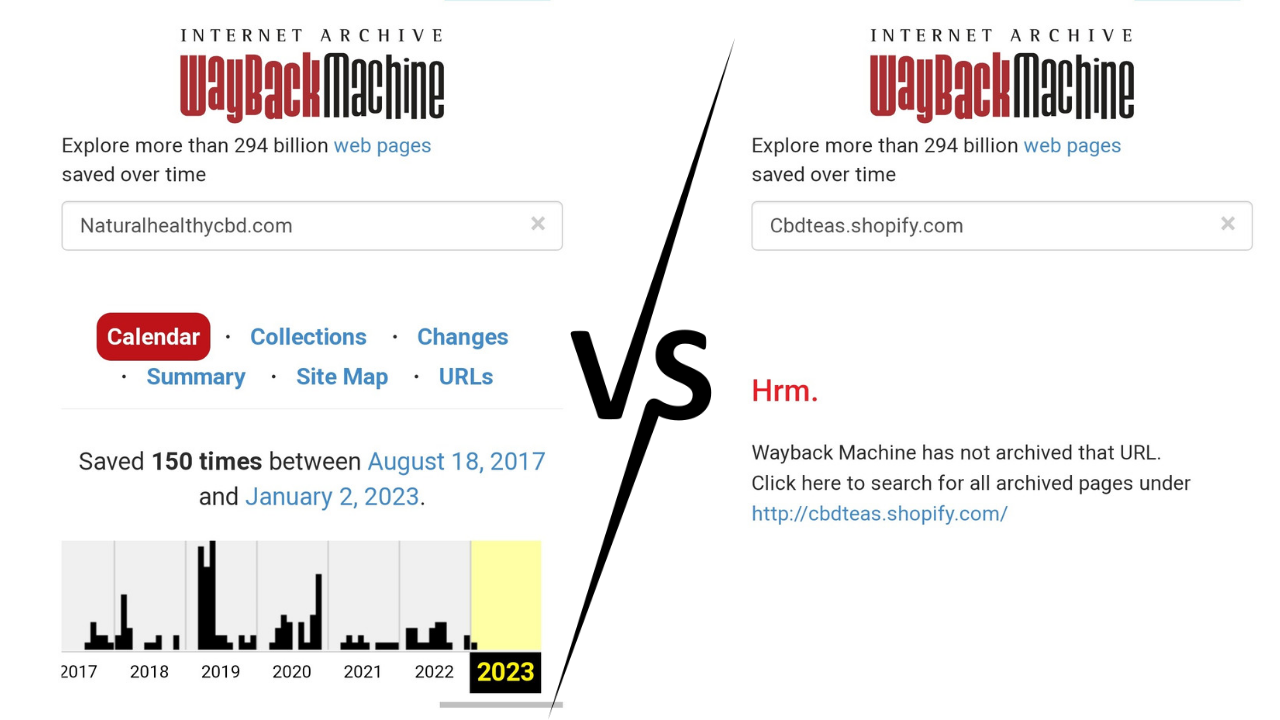 So please if you are being recommended to purchase from this company or to purchase the company as an investor, we ask that you seek out the proper owner of the business you wish to support, be it ours or another brand housed here.
We promise our business partners that we are constantly growing as a unit to better service not only our customers but the brands that we feature to prevent them from being used in ways they would not appreciate by people who do not have their permission. We will continue to investigate and report all the facts from the front lines of the CBD industry and protect our journey as a unit into natural health that's fair and safe for all involved.
To report a tip or submit your brand, lab, shop, or location for lab tests and approval feel free to contact us directly at support@naturalhealthycbd.com.
Stay Balanced. Act Natural.
Kimber Mc is the sole founder and CEO behind Natural Healthy CBD, TheExtraSpoon LLC, Hemperpedic and numerous other manufactured celebrity and off-label brands.