Posted by Kimber Mc on Feb 9th 2020
Illinois puts patients first after marijuana legalization leaves them feeling abandoned with purchase limits, weed shortages, and a corrupt market forcing the state to release a statement to prioritize medical users over recreational sales.
The Department of Financial and Professional Regulation released a statement on Thursday regarding the prioritization of medical cannabis patients during a cannabis shortage as reported throughout the state.
Section 15-15(i) of the Cannabis Regulation and Tax Act states, "If there is a shortage on cannabis or cannabis infused products, a dispensing organization holding both a dispensing organization license under the Compassionate Use of Medical Pilot Program Act and this act shall prioritize qualifying patients, caregivers provisional patients and Opioid Alternative Pilot Program before purchasers."
This means any dispensary holding both medical and recreational sales licenses must adhere to the following to satisfy this requirement;
There must be at least one (1) point of sale station for EXCLUSIVELY FOR MEDICAL PATIENTS for every five (5) point of sale stations, when patients are present.
The dispensary must let patients purchase any cannabis product in the dispensary's inventory at the medical cannabis tax rate. No product should be marked or designated for adult use only or withheld from purchase by Illinois medical patients.
If purchase limits are implemented by the dispensary, the limit for patients must be at least 2.5 greater than the limit placed for adult use customers.
It would seem Illinois even made it possible for a medical user to switch dispensaries instantly online. This would appear to be a step in the right direction for Illinois. Finally patients over profit is taking root in Illinois Cannabis Legalization!
Time will tell if this sticks as the statement can, like any implementation, change any time.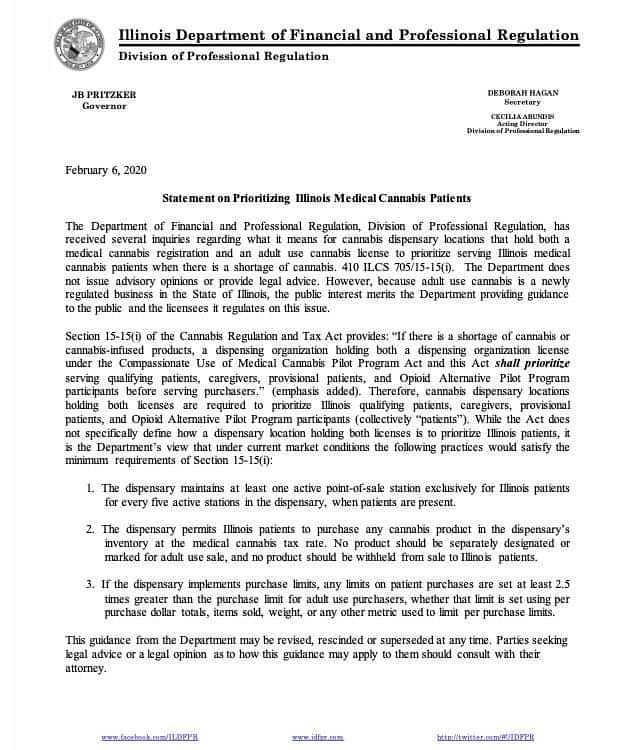 As always you can follow corrupt cannabis at Vigilante.